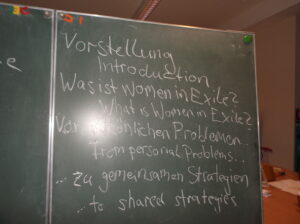 With invitation of Trixiewitz e.V. We hold two workshops for refugee women in Heims in Pankow this November. As usually we started with the concrete problems of the women and developed stategies together on how to deal with these problems.
The current changes in asylum law cause a lot of insecurity among the people in the camps. What are actually my rights? Who can be deported who can't? We were able to answer some concrete questions converning the asylum procedure. But still many women don't know what's coming next. People in asylum procedure have the right to get information about their situation! Not only in Brandenburg, also in Berlin many people don't have access to good information and counseling.
Further topics of discussion were: problems with Heimleitung (administration of the camp), being afraid of other people in the Heim (especially men), fear of deportation, racism and discrimination in school, difficulties getting a work permit, language and finding a flat.
As in our last workshops and Heim-visits the topic of medical care and health occurred. Do I have the right to get a blood pressure meter or hearing aid? Why are appointments at specialized doctors refused and why are there still no translators in the hospitals and at the doctors? For some of these problems the women could support each other with suggestions of what to do. But again and again we had to realize that the problems are caused by discriminating laws. This is why we demand th abolishment of "Asylbewerberleistungsgesetz" and that all people who live in Germany have equal access to health care!
We see again and again: The problems don't end if one gets a permit to stay. While searching for a flat is difficult for everybody, in addition refugee women face racism and prejudices against them. For some time there have been so called "agents" that demand a 1000 Euro from refugees and suddenly there is a flat for them. We demand from the housing companies to help finding flats and not to rely on these "agents". Further we demand that more flats for social housing which everyone can afford have to be build.
No Lager for refugee women* and children — housing for all!