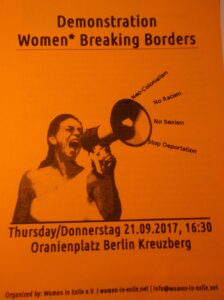 THURSDAY 21.09.2017 at 16:30 at ORANIENPLATZ
FEMINIST FIGHTS ARE FOR ALL OF US!!!
In solidarity with our conference from September 22-24, join our "Women* Breaking Borders" Demonstration and let's get loud together. The politicians are changing the laws governing refugees weekly and make it more difficult to enter Europe. At the same time, they are trying to deport as many of us as possible, even risking injury and death. On the 24.09. those with the privilege of voting will cast their vote. We, who don't have this right even if we are living in this society for years, ask you to join us in the streets and shout out loud and clear that NO BORDER WILL BE HIGH, DEEP, LONG OR SOLID ENOUGH TO STOP US IF WE COME UNITED!