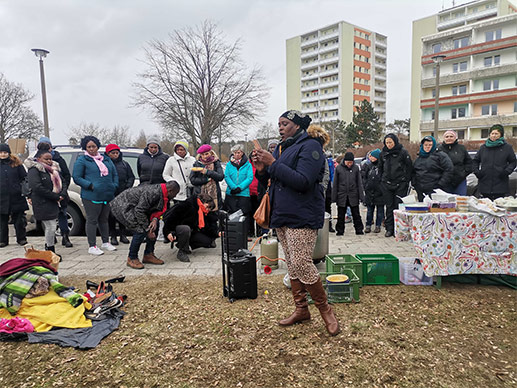 We took part in the kick-off event of the 33rd Brandenburg Women's Week (der 33. Brandenburgischen Frauenwochen 2023) on Thursday 2nd March 2023 with the beautiful slogan of "bei uns doch nicht". But in our speeches marking different events in Berlin and Brandenburg, we did say, "bei uns doch". This is because of the following facts, which refugees face in Germany and at the European borders:
The number of attacks on refugee shelters in Germany is on the rise again. In 2022, there were at least 121 attacks – an increase of 73% compared to the previous year. So there are many many more! This is a direct consequence of the European war against refugees. We are presented as a threat in parliaments and laws.
We are witnesses of consistent violations of Human Rights! The beautiful Mediterranean has been turned into the deadliest border in the world! Likewise, one of the few primaeval forests in Europe between Poland and Belarus. It is now crisscrossed by a freshly constructed hermetically sealed border. Refugees still remain there and are forgotten!
Our 8th March action this year, a rally and a picnic in Eisenhüttenstadt had almost 150 participants. Two solidarity buses left Oplatz, Berlin, in the morning with almost 100 people. The rally took place in front of the Camp and was in solidarity with our sisters, who have been obliged to live in the Camp for more than three months before their presence is officially registered by the migration authorities and who are not allowed to leave their region (Landkreis).
We thank the Soli Bus e.V., Haus des Wandels, the participants at the rally and all allies who through their contribution made 8th March 2023 a memorable day.
We hope the demands of the many women who came out to air their grievances as well as ours will be taken seriously by the authorities.