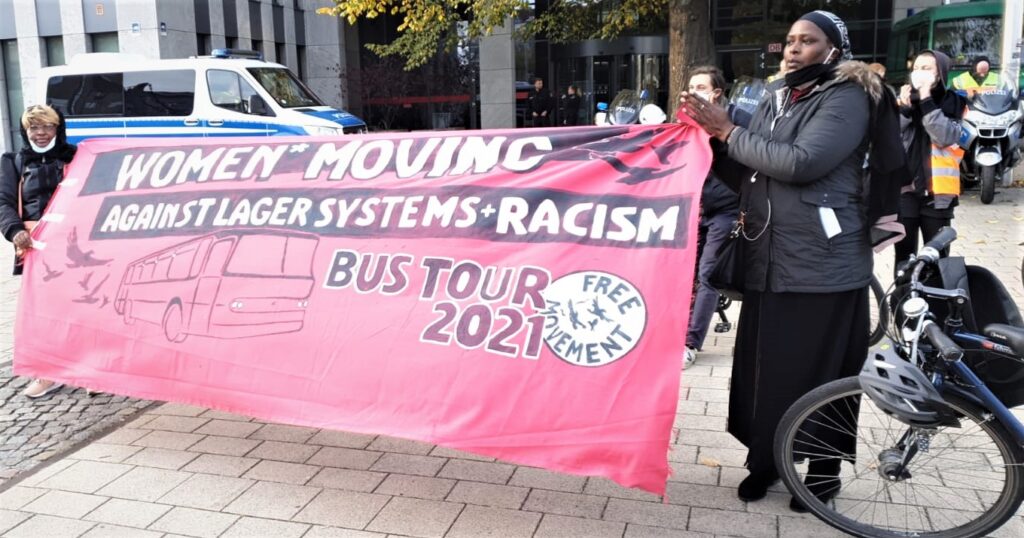 On the 25. November, the "International Day for the Elimination of Gender-Based Violence against Women*"Women in Exile&Friends, Haus des Wandels and other local initiatives invite you to join our rally in Eisenhüttenstadt in front of the Erstaufnahmeeinrichtung in Poststraße 72 at 1 pm.

Our rally is meant is to bring attention to the women*s situation on the flight and the situation for us living inside refugee camps. Through these dangerous routes, women and queers are systematically being exposed to violence and sexual exploitation. We end up in receiving camps in Germany with physical maladies and trauma. Not only the flightway, but also the camps are not safe spaces for women*. We and our children are a vulnerable minority in these camps.
On our rally we will also remember our Sister Rita O.. She was brutally murdered while living in a camp three years ago. To date, the proceedings have not been concluded, let alone charges brought. The violence protection concept has not worked and the best concept would be: No Lager!
On the 25.11. we also want to welcome those, who managed to cross the deadly borders of Europe, cry in anger with those who did not manage, for an open an solidary society. We condemn the fascism and racism refugees have to face. We condemn the deadly fortress europe from Belarus to Libyia! We demand safe and legal flight- and migrationroutes! We demand justice for the human rights violations happening at these borders – especially now at the Belarus/Poland Border. We demand german police in Brandenburg and Sachsen to stop taking the mobiles from refugees when crossing the border – don't you have you one mobiles?!
This is why we ask you to join us on this day to say it "loud and clear":
No Lager for women* and children! Abolish all Lagers!
No to racist agitation, isolation! No to the german and european Borderregime!
Right to come, right to go, right to stay!!