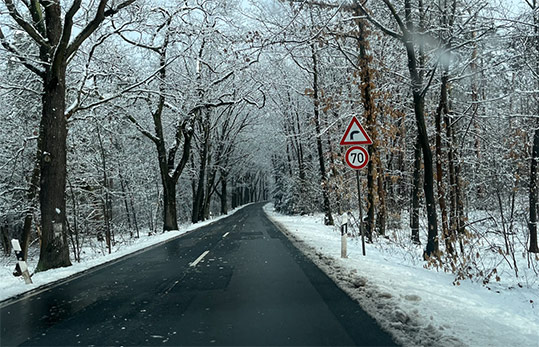 On 8th March 2023, at the invitation of die Grünen in Brandenburg, WiE & F joined their delegation of 4 women led by parliamentary leader Petra Budke to visit the asylum accommodation of Hohenleipisch, in the Elbe-Elster Landkreis of Brandenburg. We went there because on 20th June 2019, our sister Rita was found dead and covered in burn marks 300 meters from the Lager, after going missing on 7th April 2019. She was 32 years old with two children under 4 years old.
At Hohenleipisch, we met with the Landkreis' Sozialamt (social welfare office) which is responsible for the Lager and the Diakonie, which currently manages the Lager. The purpose of the meeting was two-fold, to talk about our sister Rita and talk about the conditions of women and children now living in the Lager. This is what we learned.
The investigation into Rita's death
As reported by the media at the time, were already concerning delays and red flags in the way the police conducted their searches after Rita was reported missing. Since Rita was found dead in 2019, there have been barely any progress in the criminal investigation led by Oberstaatsanwalt Gernot Bantleon in Cottbus into her suspected murder. We also received confirmation at our meeting that key actors such as the Sozialamt and the key suspect (who has since gone AWOL) have never been contacted by the investigators. We were not able to talk more about Rita as the Diakonie refused to speak about her case. In this sense, our meeting was not fruitful.
In the meantime we found out that the Lager's management has changed twice: in January 2021 from Human Care – which had been managing the Lager since 1992 – to Internationaler Bund, and again in October 2022 from IB to Diakonie. By early 2022, we were also told that residents who would have lived with and known Rita had also all been moved out and dispersed to other places. The delays in the murder investigation are turning Rita's story into a cold case.
The Lager of Hohenleipisch today
The Lager is extremely isolated. It's 160 km south of Berlin in southern Brandenburg, on the border of the state of Saxony. It's in the middle of a forest, on the edge of a road where cars speed up at 70km/h. There are no sidewalks and the only way to get to the village of Hohenleipisch is by public bus which runs only hourly. The residents of the Lager explained vividly their segregation in an open letter demanding the Lager's closure, published shortly after Rita's death in 2019. A video filmed around the same time by collective SCRATCH also visualises this well.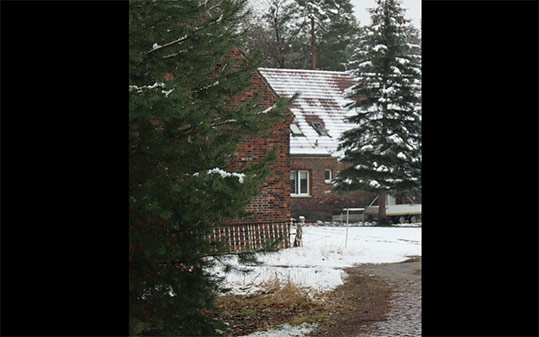 Despite Rita's horrible end, the Lager is still in full operation, priding itself as a place suited to families and children. Today, the Lager has 2 security guards 24/7 and a fence for 165 places, 38 of which are filled by 27 children and their 11 single parents. While theoretically these families should be housed for no longer than 6 months at the Lager, they can in fact stay here for up to a few years because, as both the Sozialamt and the Diakonie acknowledged, it's hard to house them in the community as "locals don't want them [nearby]". Thus they stay in the forest.
On this note, it was also interesting to hear that almost all Ukrainians in Brandenburg found accommodation directly without having to first live in a Lager like Hohenleipisch's. This raises again the issue which we WiE & F have heard many times before from residents of other Lagers, of whether non-Ukrainian refugees and asylum seekers are treated as second-class people.
Directive 2013/33/EU on the standards for the reception of asylum seekers clearly states that asylum seekers should be given access to lawyers, access to schooling (mandatory between 6 and 15 years old), to medical and psychological care. Under this Directive which is law in all EU member states, asylum seekers should also be able to participate in social and cultural life, which includes receiving visitors and being able to visit friends after school. The Directive also says that we should be given permission to work after 9 months of initial residence and should have access to literacy, language and integration courses. Yet we saw and spoke to school-age children who were not going to school and who could not speak German. We also spoke to a woman who confirmed that she was not able to attend German language and integration classes. Because of its location and its lack of public transportation, we also do not think that residents can build meaningful friendships outside of the Lager. Our visit at Hohenleipisch and our chats with residents there has confirmed that while these rights may exist on paper, because of its very location, asylum seekers at Hohenleipisch do not have these fundamental and human rights.
Our demands
1. Ensuring that a criminal investigation into Rita's death is being conducted in an effective and timely manner, and in any event before 2025 when the Lager of Hohenleipisch is said to close down. Rita's case raises Rita's right to life (Art.2 of the ECHR), Rita and her family's right to private and family life (Art.8), Rita's and all other women subjected to violence's right to an effective remedy (Art.13) and the prohibition of discrimination (Art.14). Rita's case is thus clearly in the public interest. Rita's case may thus require escalating the investigation from Cottbus to the prosecutor of Brandenburg an der Havel;
2. Apartments in the community (and not Lager in the wood) for all vulnerable residents, single women and families from the Lager. This is important not only for their safety but for their fundamental and human rights to be respected.
These will require concerted political will. We hope to be able to meet with die Grünen again and have them help us raise Rita's case in the Brandenburg Landtag which we believe may be the only body at the moment where we can raise our grievances and which can progress Rita's case.
Going forward, we will also work to find out more about how single women and children are treated in Hohenleipisch and see how we can best assist them.