O this page, you can find a documentation of our summer bustour 2016 through Germay.
Saturday, 13.8.: Berlin
We started our last day with a rally at Oranienplatz in Berlin-Kreuzberg. The women* from our group as well as from the groups that welcomed us held powerful speeches. Then the Marianas Berlin performed Forum Theatre which was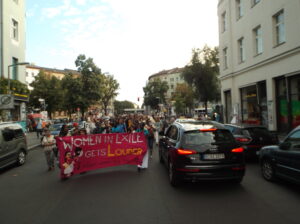 followed by a demonstration to Mariannenplatz. The day felt like coming home as our struggle is connected to Oranienplatz/Refugee Movement Berlin and Bethanien as the place of our monthly meetings. We arrived at Bethanien to eat delicoius food, show our movie and dance. Thanks a lot to all the people who welcomed us in Berlin, especially to SUSI Interkulturelles Frauenzentrum, Kanal Wagenplatz, International Women's Space, Madalenas Berlin and all the other groups and individuals!
Friday, 12.8.: Potsdam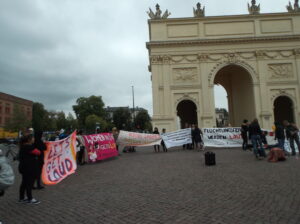 Due to Hamburg being cold, rainy and stressful we arrived in Potsdam and most of us were only tired. Luckily, many women whom we had met during the tour rejoined us in Potsdam and gave new energy to the group. We joined a demonstration in the city center and showed our movie.
Wednesday, 10.8. and Thursday, 11.8.: Hamburg
Like all the states we went through, we were warmly welcomed and after eating, we divided ourselves into two groups and left for Lager visits to in talk an invite refugee women to our workshop. The following morning we managed to visit four more lagers and at the end thanks to our drivers and the Hamburg friends who also joined in transportating the women to the workshop, we had a meeting with more than 100 women. We realised that one of the main problems was hunger. The women and children were to hungry to concentrate in the workshop. For months they have not been provided with enough food. The "emergency shelters" (= the most horrifying container Lagers) are not made for long-term housing. Neither is the packed food of bad quality.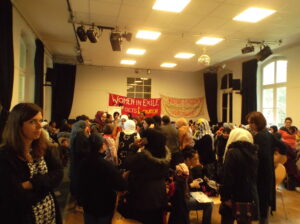 Due to the large number of women who wanted to participate in the workshop and lack of capacity from our side, we decided to make a presentation and to discuss on how and where to get information for some of the many problems they are facing as refugee women. Our hope is that all these which we have managed to bring together in the states and cities where we have passed, not only groups and individuals working with refugee women but also individuals supporting refugees will make use of these networks to come together motivate refugee women to join and fight for humans rights and also their rights as women.
During our farewell round in Hamburg, we also realised that today we will arrive in Potsdam and in Berlin tomorrow, this means that our tour is coming to an end and we (the women in the tour) are a little bit sad because we have been living and working together closely fort he last three weeks. On the other hand, if we still have the energy we can sit together and see how weg o on, just like the groups who organised the events during the tour in different cities that we stopped, and managed to bring all these women together.
Monday, 8.8. + Tuesday,9.8.: Bremen
In Bremen we arrived at a park on a cloudy, cold day and were welcomed by refgee women and supporters with hot drinks and food. After we went together to the Heims meet the women and invite them to watch our documeatary film. We visited one Lager that is housing only pregnant single women. They are supposed to get special care there but the opposite is happening: They don't get enough or variable food and only little pocket money. For there new born babies they only get three dipers a day. We were told that many babies have infected bums as of course baby poo cannot be regulated by the social administrations.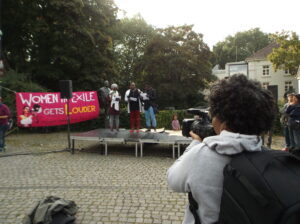 In the evening we ate and watched the documentary film together. This event was attended by more than 100 people. In the morning we went met with refugee women and made an empowerment worshop together. The women were happy to learn that there things they can do on their own, if they have the right contacts. After the workshop and a lunch they joined us on the rally at Goethe Theater Platz. Here we had an open microphone where speeched were read from different groups. Here we met a wonderful trans*woman who held a speech about discrimination. She decided to join our tour upto Hamburg and assisted in our empowerment workshop with Arabic translations and moderation.
Sunday, 7.8.:Witzenhausen
The following day we spend in Witzenhausen. On our way we passed through Eichenberg. We were picking up about ten women living in this small, isolated Heim which is round about 10 kilometers away from the train station. Two of the women living there are our contacts and friends since the first nationwidemeeting that we organized as "Women in Exile and friends" Götingen in 2013. We are very happy that we still have this good working relationship between our solidarity supporters in Göttingen and the refugee women living in the surroundings. After enjoying freshly baked bread from different women of different nationalities we proceeded together to Witzenhausen.
In Witzenhausen we were received by the activists oft he AK Asyl and refugee women from the surroundings of Witzenhausen. After eating lunch together, we had an open discussion with about 70 up to 80 refugee women. They told us about different problems they are facing such as the difficulty to get a flat in the area, a lack of privacy, shared bathrooms, and the fact that women with small babies have to leave them in the rooms when they want to cook in the kitchen as is situated at the other end of the corridor. Another point that came up was a lack of internet facilities, as it is important and gratis for the women to stay in contact with their families and friends.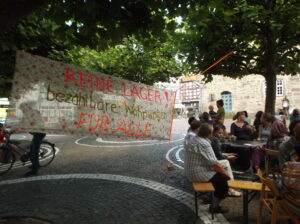 Then 50 of us had a walk to the Marktplatz for a rally, where several women used the opportunity to speak in the open microphone to express their current living situation. During the rally the supporters and friends from Witzenhausen had a variety of cakes and coffee for us. Like this we spend the whole day together.
Saturday, 6.8.: Göttingen
In Göttingen as usual we were warmly welcomed by our friends in the OM10, a house that has been squatted since last November in order to create living spaces in the centre of the city.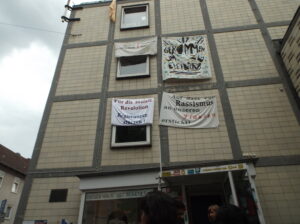 For their good work with the community as a whole the house has been nominated for the "Taz Panther Prize". Please vote here for them in order to support their project. After tasty meals from different countries, we came together and had a small meeting. We decided to seperate in two groups. One group of about 20 women had an empowernment workshop for refugee women, and the other one visited a Heim called Siekhöhe, a former foodstorage.
Friday, 5.8.: Bielefeld
In Bielefeld we were welcomed by some refugee women and AK Asyl with open arms and delicious Afghann food. After having lunch we moved together to a womens centre, where we met more refugee women from Bielefeld and the surroundings oft he city. We watched our documentary movie and then had a workshop with about 40 up to 50 women, which was concerning health-issues of refugee women. In small working groups we discussed about the topics of child health, womens health, what it means to be sick inside the Lager and medical insurance card. To give a small impression into the workshop, we want to emphasize that once again it came up that in health issues translation is very important. Some women shared their experiences in the workshop, reporting that they felt not treated adequately as the doctors didn't understand what ailing them. Especially women living in small villages and in the outsides of Bielefeld said that when they were going to the doctor they were only given pain killers, no matter what they were suffering from. Another question that rose was the one about the card for medical insurance and medical support, because it is very difficult for refugee women to get sick chits whenever they go to the social service offices. Some women reported that they had trouble in the social and that they feel very uncomfortable going there, because they are asked a lot of questions and at the end oft he day the social workers are determining if they are sick enough to get a sick chit or to see a doctor or not. As some of them reported, some were even asked several times why they got pregnant.
After we finished the workshop a refugee woman got in touch with us, who had read about our bustour in the internet and got interested in our political work.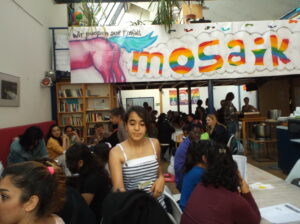 She took part in the workshop and requested to join us for the rest of the bustour.  Since that day we are working together and we very much appreciate her presence and the support she's giving us with translation and many other things during the tour. We hope that we will learn from one another and continue working together. We hope that after the bustour our friend will motivate other refugee women in Bielefeld to build up their own local initiative. The day ended with a sit-together and together and an amazing party in FRAZE.
Video 10 : Bielefeld
Thursday 4.8.: Osnabrück
In Osnabrück we were warmly welcomed from our friends "No Lager Osnabrück". We had lunch together and then went to three different Lagers, among them to the big Lager in Bramsche, to invite women for two workshops at SubstAnZ. We had one empowerment workshop for refugee women and one workshop for supporters and male refugees. In the empowerment workshop we found out that the biggest problem in Osnabrück is a lack of information for those women living in the Heims outside oft he city, and especially those ones living in Bramsche. For us it was surprising to realize that despite this active local structure of (male) refugees and supporters, who are fighting since years against deportation and the Lager-system, the group as such has very few contact to and support for refugee women. Also we found out that among the refugee women participating in the workshop some have just recently arrived to Germany, while others have already lived in Lagers many years. So we were happy that our workshops might have been a first step towards a network and a better communication.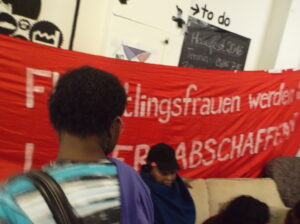 Considering the first workshop it was luck that our second workshop was reflecting on the political strucutres in Osnabrück and how they are build up. We discussed how the local structures can be changed in a way that they would become more open and accessible for refugee women. During and after the workshop we realized again how important it is for us to organize as a womens group, because in this way we can define polical work, what means activism and what demands we put into the open ourselves. It seemed very difficult for the male refugees to work together in order to improve their own structures, so that refugee women can be included as activists. After the workshops we did a screening of our documentary film which is about refugee women activism.
Video 9 : Osnabrück
Wednesday,  3.8.: Köln

 The second day in Köln we organized an empowerment workshop. More than 50 refugee women joined.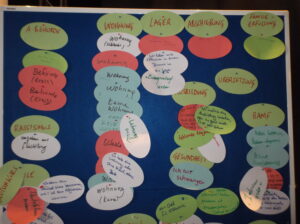 Despite the difficulties with translation and patience, the women shared their problems and together we developed strategies. One woman who lives in a gym with many people as claustrophobic and told us that she faints at least once a day because she cannot deal with so many people in a crowd. We wished that we could stay with her and take care about her problem together as she said that until now, nobody bothered about it. One mother also told us that the doctor advised her not to send her child tot he Lager toilet anymore as they are suffering from infections. But where ist he child supposed to go to toilet then? It is difficult to describe our feeling during these workshops. We cry together about the problems and difficult situations we, our sisters and our friends are facing. And at the same time, sitting together, talking about it, giving each other strenght and advice is always a very empowering moment and the first step towards a change. So in Cologne we came up with the following demands:
–          We need solidarity among women
–          We need good medical care for all
–          No deportations, and abolish Residenzpflicht
–          German language courses for all
–          We need translators and flats
–          We need immedete family reunification and not after staying in Germany for three years
Video 8 : Köln Tag 2
Tuesday, 2.8.: Köln
It was rainy in Köln. When we left Frankfurt it was raining and still raining when we arrived. But despite the rain, the people in Köln were VERY welcoming and had prepared themselves well. Many refugee women and supporters were waiting for us already. After having tea together, we went to invite the women in the Lagers for the workshop next day. Many women were motivated to come again but again, the security tried to get involved and hinder them to get into contact with us. We also visited the Lager which became famous in January. The refugee women wrote an open letter complaining about sexual harassment and attempted rape by the security. It was impossible for us to talk to the women as the male refugees and the security didn't want us to. Apparently the administration of the Lagers wants to create problems. We listened to horrible stories: The Heimleitung put people who were known to be hating each other in one room. One women was threatened to be moved to a Lager with worse conditions if she should speak up. We witness the fear and conflicts the administration and security puts into refugees. There are only a few "isles of emergency" inside the hall to recharge their phones battery. Any extension cable is taken away from them by the security. The Heimleitung also took some electronic devices as it was not "EU-Standard". But a sport hall with several hundred people is EU-Standard?! It is not allowed to take any food inside this sport hall. So some of the women go out nearby to cook in the forest at night. This way they can at least sometimes provide their children with self-cooked food.
Video 7: Köln Tag 1
Video 8: Köln Tag 1
Monday,  1.8.: Frankfurt/Oberursel
In Oberursel we met with over 50 refugee women from Frankfurt Main and the surrounding areas. After an empowerment workshop and discussion, we realised that all the refugee women are going through the same problems. Just like in Leipzig or Nürnberg, the most pressing problems are accommodation, waiting for more than 8 months for interviews while accommodated in sport halls,  institutional racism and also the racism inside these different accommodation camps between the refugees themselves. After the workshop we went to visit the old container lager in Oberursel and found that they have demolished part of it, the irony of  the whole matter is, some new so called "Wohnmodule" are being built so that the refugee can be moved there. Some new buildings to house refugee families nearby are lying empty.
The feedbacks from these cities are amazing, both from the groups and individuals organising these events as well as the refugee women. The groups and individuals are happy to network and work with partners they have not had the opportunity to work with for a long time. We hope this tour will reactiviate  networks and also build a refugee women network.
Video 5 : Frankfurt/Oberursel Wohnheim und Workshop
Saturday, 30.7.: Nürnberg
The day started with a delicious breakfast in "Dialog der Kulturen" that some women from Nürnberg prepared for us. After taking the women from the Lagers we had visited before, we did an empowernment workshop in the framework of the conference "Fluchtursachen bekämpfen" in Villa Leon.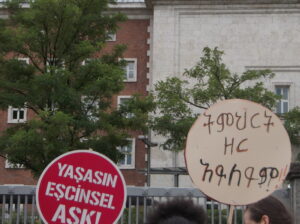 We all needed a long breath as we did not have many translators and were partly using body language to understand each other. But still – it was a very empowering experience to share our problems, ideas and strategies despite barriers of language or nationality. At 17.00 we joined a ralley against the Terror of Daesh (IS) in Syria, Kurdistan, Afghanistan, France and Germany which took place in the center of Nürnberg. Our thoughts were with all those who lost familiy members and friends in the recent attacks but also in the wars and conflicts that made so many people leave their countries.
We closed the day with some spaghetti food and some of us went to a world music festival in the city center.
Friday, 30.7.: Nürnberg
Our day started with a loud Demonstration in front of the BAMF head office – the place where people decide on our lives. The office that is responsable for all decisions that are made in the asylum procedures. Here you can listen to parts of our speeches. Our demands:
No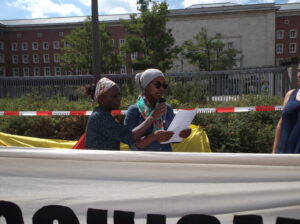 Lager for Women and Children! Abolish all Lagers!
Aknowledgment of gender specific reasons of becoming a refugee!
Don't legitimize deportations and new discriminative laws in the name of women*!
German courses for all! The right to work!
…..
We handed our demads to one of the representives there. He listened to what we had to say but the door stayed closed. So we decided to visit the women in the container Lager that is just on the other side of the street. The security there threatened to call the police and the refugee men inside the camp felt discriminated by our demonstration and harassed some members of our group sexually. We left the camp without having the chance to talk to the women who have to live there.
A very different experience was our visit in two other Lagers the same day. One of them was the old container Lager in the forest. We gathered all the women who live there and invited them for our workshop on saturday.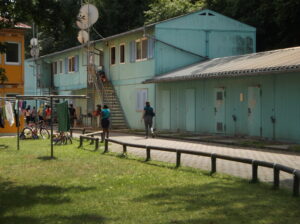 Some of them have recieved their asylum status 5 months ago and are still living in the Lager. It is very difficult to find a flat in Nürnberg and they don't have anybody who assists them. The space inside the containers is very limited and during the winter it is very cold. Again, the women are the ones keeping things together. They take care of each other's children, organized a women's meeting, keep the place clean and plant some flowers and herbs.
Video 4 : Nürnberg Demo Redebeiträge
Video 3 : Nürnberg Wohnheim und Workshop
Thursday, 29.7.: Leipzig
In the morning we went to one of the worst Lagers we saw from outside during the tour. We were not allowed to go in as they call the hall in the old fair of Leipzig "emergency shelter". An other malady facing refugee is fear; fear from deportation and fear from the security in charge of these camps. Not them being aware that some women from our group are speaking Arabic, the security people were telling the women not to join our activities because if they do they would be jeopadising their chances of being recognised as refugees.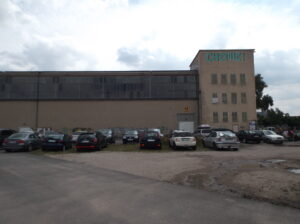 The security was agressive and threatened the women who wanted to join our demonstration. As frustrating as this experiece was, as powerful was our small demo passing another Lager and finally reaching the city hall.
Video 2 : Wohnheim und Demo in Leipzig
Wednesday, 28.7.: Halle/Saale
With more than 30 refugee women from Sachsen-Anhalt we did a workshop on health issues. How are especially refugee women suffering from the racist laws like "Asylbewerberleistungsgesetz" and kept from information they need to survive? Together, we discussed strategies – what are our long term political goals and who can we live together in practical solidarity every day? During the break of the workshop we had some delicious African and Iranian food that was prepared by the women of the refugee women's group in Halle. THANK YOU!
Tuesday, 26.7.: Halle/Saale
In the area of Halle we visited the Lager in Marke. The Lager workers refused us entry although we made it clear that we were visiting a woman we knew. She could only allow those who could leave their identity documents with them and pick them on their wated as to who should visit them.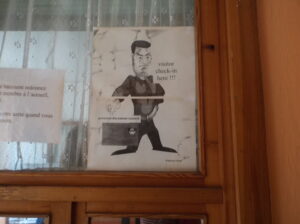 The people owning these properties and their workers are treating refugees like prisoners in the pretext of protecting them. We have no problem with showing documents to these workers and they can take down all the information they would like to "but they have no right to retain our documents"! In the first place this is lager is isolated and in the middle of nowhere. The kitchen is on the first floor and everybody goes down to cook there. Most oft he cookers are marked with black tapes showing that they are out of order. To going shopping one hast o take a regional train.
Monday, 25.7.: Magdeburg/War-Starts-Here-Camp
We started at Berlin Südkreuz at 11:00 with women coming from different areas in Brandenburg and Berlin. Unfortunately some three women cancelled their participation at the last minute because they got appointments to report tot the Immigration office in the course oft the week.
Our first stop was Potzehne near Magdeburg where the "War Starts Here", a one week camp is taking place here. This is near the NATO military training base where soldiers are trained and later sent to different countries for military duties eg. Afghastan, Mali etc. This military base has been used for these type of trainings since the 1930, first by the Nazis, then by the Russians during the cold war and then from 1994 by the NATO. The protest camp has been active since the 1990s and have had the success of stopping bomb trainings in German. This year`s topic is "War causes Migration" and we could not agree more. This being the openning day oft he camp and the first day of our tour, it was a strategic choise to have the first discussion and workshop here because we belief even if many refugees are not directly affected by the war, all types of other issues connected to flight start here. In our workshop we discussed how war, economical and other vices are connected to migration. We discussed also in details about the problems refugees are facing when they ask for asylum in Germany such as racism, discrimanation, separation into the good and bad refugees, deportations, restriction of movement from their residential areas etc. Why we felt it was necessary to found a refugee women group and why we demand that women and children should be removed from Lagers and to abolish all Lagers. We talked about how women are double victims to these living conditions because of lack of privacy and the sexual and physical violence which is common in the lagers.
The workshop ended around 19:00 and we had to leave around 20:00 because we had to sleep in Halle and the children were already tired. After a few kilometres from the camp we passed a police car which had passed near the camp earlier on and was standing by the road. After we passed it, they followed us and signaled us tos top. We stopped and our other bus which was behind stopped to find out what was wrong. This was the beginning of a two hour police check of each and every one of our documents. It did not bother them that we had two young children with us who were tired and were being disturbed by their flashlights. Several people from the camp came over after learning what happended to us but were refused to talk to us and were told that it was not their business.
This incident has brought some fear to some women especially the ones who joined us recently but we hope it will also make them stronger to go on. The opinion is also divided by some us terming it a racist control because we are not sure if this type of checking would have been necessary if we were all white Germans in the buses, while the others are justifying it because oft he terror actions going on. Whatever it was, we did survive it.
Video 1 : Magdeburg/Halle