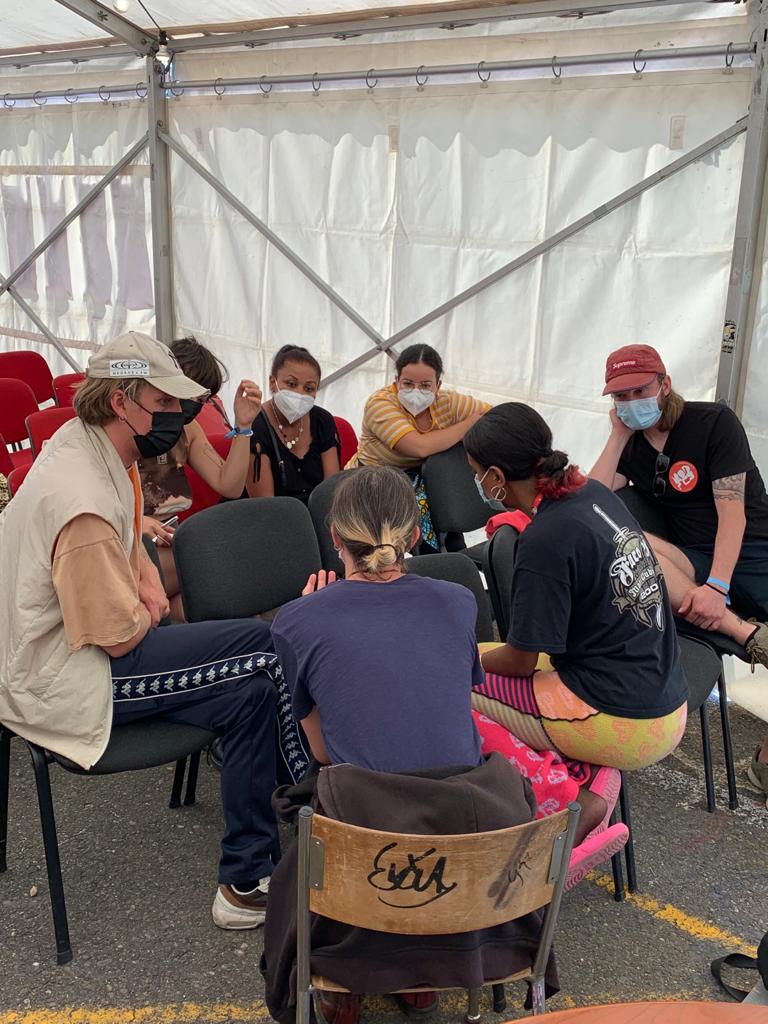 For Women in Exile and friends, the summer has been exciting and we have been able to organise our own activities and joining those which have been organised by other groups.
After a short rest from our summer bus tour, we went back to Rostock on the 22.8. for a solidarity action. This was to support the newly formed "Women in Exile Mecklenburg Vorpommern" group and their supporting groups to commemorate 29 years of the pogrom in Rostock-Lichtenhagen. The commemoration rally was followed by another rally in Horst the same day. The two actions were meant to show the connection of the pogrom to the formations of the isolated Lager in Horst and the racist, restrictive, discriminative 1993 asylum laws.
We have been able to organise an internal workshop for the women on the knowledge of the "Pelvic floor". This knowledge was very helpful and educative to us and we learnt many things about our bodies which we did not know before. It is possible to read full details of the workshop report on our workshop here: Pelvic floor « Women in Exile & Friends (women-in-exile.net)
Our external workshops includes an empowerment workshop for refugee women in Berlin, "from personal problem to political activism". Here we presented our work and discussed about the most pressing issues the women are facing. We tried to find solutions together to problems such as looking for flats.
In the second week of September, we were able to join activists discussing global climate crisis in the "Kontra-IAA", a counter conference to the International Auto-mobile Exhibition in Munich. In this panel, it was very clear to see the global injustices which are interconnected with colonialism and exploitation of resources and labour from the global south. This was followed by our interactive workshop on "climate change is a flight reason" the next day. We gave out the same workshop during the weekend at the "Enough festival" in Zurich.
In these workshops, we challenged the mainly white dominated audience and activists, to reflect on their privileges and responsibilities. With questions on the questions:
a) What barriers do we see in connecting our fights?
b) What practical steps should the climate movements in the global north take into consideration, in solidarity with the global south?
We were were able to discuss and come up with suggestions; on how the global north and global south could work together in solidarity, to address these deficiencies and change the only "consumer policies" from the global north to benefit both sides.