We condemn the deadly European Borders Regime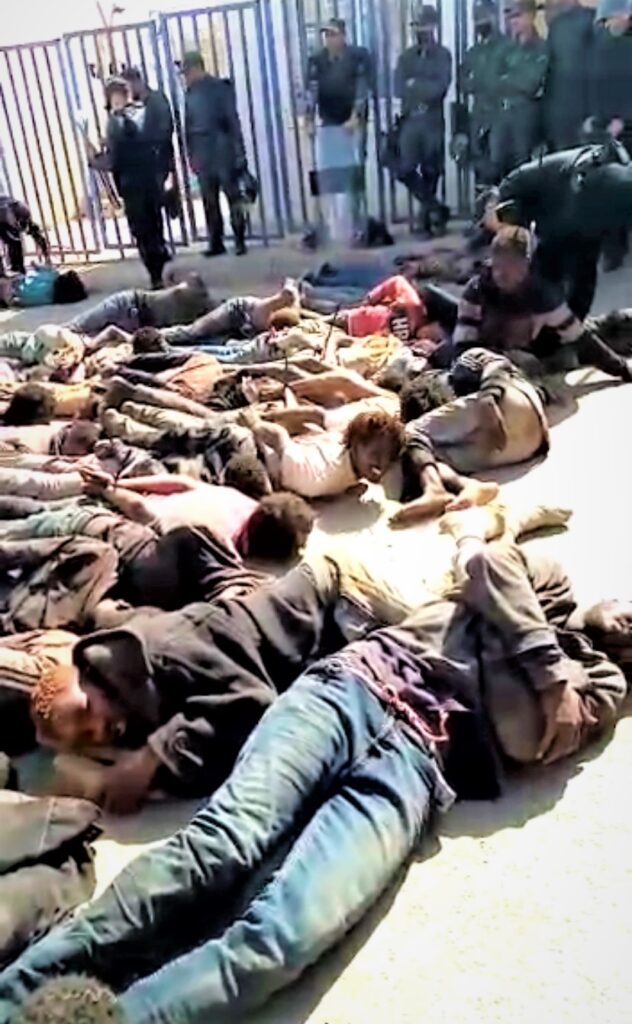 We are tired of hearing outcries only when images of inhumanity and death on the European external borders are seen on screens in the living rooms. Melilla is not an individual case. Deadly Borders are everyday evil. But the European government, the politicians and most of its citizens pretend it is not happening. People are dying everyday: in Melilla, in the Mediterranean see, in Poland, Belarus, Lithunia – in the name of protecting fortress Europe.
Activists are on the streets everyday condemning these policies but the European governments and politicians have no interest in listening. We condemn the brutality and inhumanity leashed out to the African Black people, who are fought as invaders of the European continent and civilization. Today, we are not going to start a colonial or neo-colonialism history lesson. We are demanding justice for all the past and current victims of these inhumane European colonial border policies.
The Spanish Prime Minister Sanchez praised the actions of the security forces. EU Council President Charles Michel pledged his full support to the Spanish authorities. Without a post-mortem examination and identification, people are to be buried quickly. Is it to cover up the crime?! Don't the families have the right to bury their grandchildren, children, lovers and siblings themselves?  What an inhuman and lack of leadership way in responding to a disaster! "This blood will not go for free from their hands. These killers will not know peace!", was a response from one of us.
Spending tax payers money on funding deadly European borders will not stop people on the move. It will only make it more dangerous and inhuman. You should rather stop funding corrupt governments in our countries for your benefits and selfish regimes.
To quote a joint press release by Pro Asyl and refugee councils of Germany of 29.06:
"The escalation over the weekend joins the massive violence against those seeking protection at the EU's external borders – and yet must finally represent a caesura! " One reads these days of 'renewed' or 'repeated' violence. The formulations apply and trivialize the accepted death of protection seekers. For years they have been exposed to deadly dangers in front of everyone in the Mediterranean, in illegal pushbacks, in Polish forests and at almost all other external borders of the EU. However, beating up the severely injured is undoubtedly a new level of barbarism, especially when it is praised by those with political responsibility," said Dave Schmidtke, press spokesman for the Saxon Refugee Council." It is time for the policy makers to go back to the drawing board, take responsibility of their inhuman policies, open borders, let people move freely on this planet and start working for global justice.