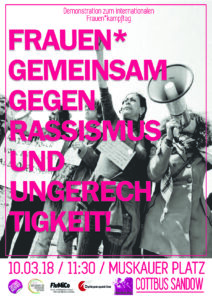 With our demo we focus on the racist and sexist  violence against women*, lesbians*, trans* and inter*.
We want  to make this struggles visible so in  the front lines there will be a Women*,Lesbian*, Trans* and Inter* block.
Appel en français || Позвоните по-французски || farsi || arabic
Demonstration on the 10.03.2018 in Cottbus
Together by train!

Who want to come by train can join us on RE 63968 to Cottbus.
START: Alexanderplatz 9:42h or Ostkreuz 9:49 – GLEIS 1
we reach Cottbus at 10:59h.
In Cottbus there is a Bus-Shuttle to the starting point of the Demo (Muskauer Platz) at 11:10.
Or you can take Bus or Tram 2 direction Sandow – please note that because of construction the station is moved to Bahnhofstr..
With Brandenburg-Berlin Ticket you only pay 29,-€ for 5 persons (going and coming).

So come in groups!
11:30  Muskauer platz  in Cottbus
Marking the 8th of March, the International Women*s Day of Struggle we, Women in Exile and Friends together with other allies are organizing a Demonstration in Cottbus, south Brandenburg.
We are turning against the hatred against refugees caused by right populist, spreaded by media and carried out by the politics.
This hatred follows a conservative and right conception of women and is systematically provoking a separation between Cottbus citizens.
Why Cottbus?
For a long time south Brandenburg in general and Cottbus especially are known as racist centers.
For years the organization Opferperspektive (victims perspective) is registering rising violent attacks in this region.
The new right organization "Zukunft Heimat" (Future Homeland) is marching for one year regularyly through the center of Cottbus.
Thus the offical announcement that no more refugees from the central-receiving center (Erstaufnahmelager) in Eisenhüttenstadt will be allocated to Cottbus, is a dangerous signal and playing to the right wings hand.
Enough is enough! It is important to go on the streets in Cottbus now.
It is not about refugees, it is about racist hatred and violence!
A city gripped in fear
In Cottbus refugee women* and children fear going out of their flats because of verbal and physical attacks.
Name plates of flats owned by refugees and migrants are sprayed over and the postal service cannot find their names on the given address that means they hardly get their post. Children going to public schools are openly segregated and discriminated. They are allocated their own classrooms, which leads to isolation and makes one automatically to ask what became of the integration policies.
Racism as the core problem is not named.
The city is gripped in fear and huge pressure is made on refugees, especially on refugee women*. The fear to speak out is everywhere.
For a feminism without racism!
On the same day (10.03) of our demonstration, racist groups of women and men will also march in Cottbus. Going round pretending to be fighting for women with the motto "freedom of women is not negotiable" they will be selling their racist propaganda.
Feminism demands the abolition of injustice thus the same rights and freedom for all people, regardless of their origins.
Let's make it clear on the 10th of March that Feminism is not including racism!
SPEAK OUT against racism, opression, right and racist violence!
Lets make pressure on the municipal authorities to take action !
Let's fight together for feminisms!
 
We call on all groups and individuals fighting against racism and feminism to join us in Cottbus, to say it loud and clear!
 Right to come!
Right to go!
Right to stay!
Update: The racist group drew back their demo announcement for the 10/3/18. Apparently they became cold feet.
One more reason to be loud and to be many!
Join us in Cottbus on the 10th of March!