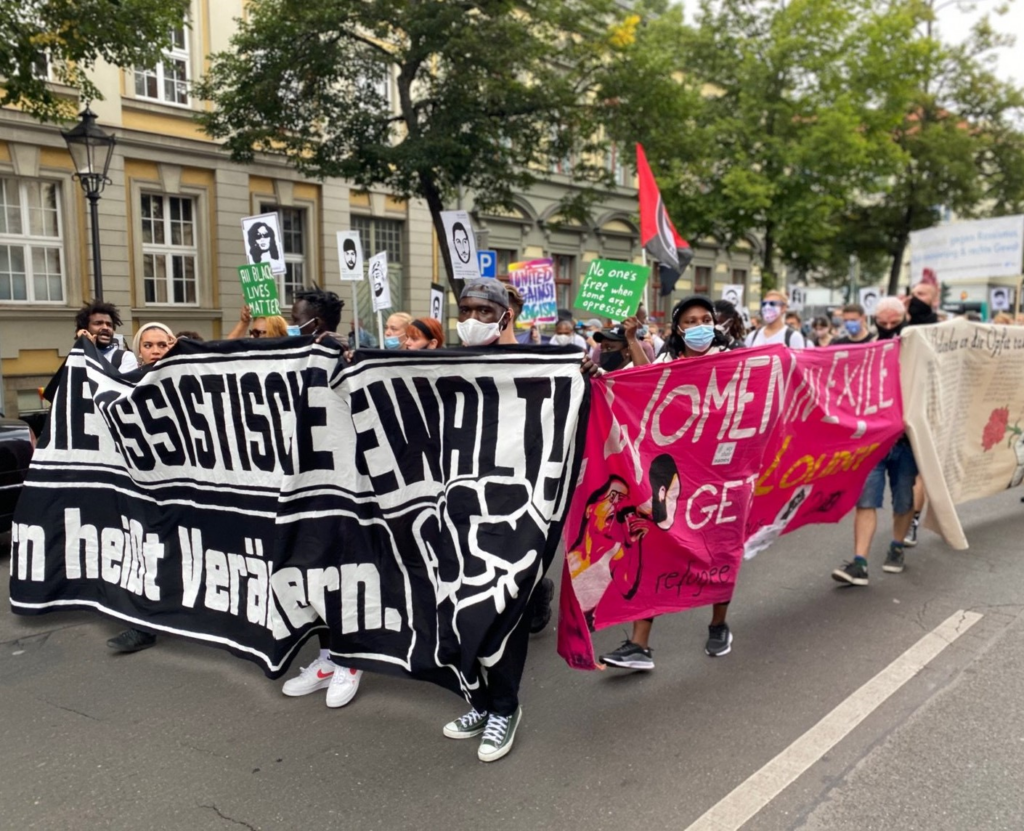 On Saturday, August 22, 600 people demonstrated in downtown Potsdam against racist violence. On the occasion of the racist attack in Hanau six months ago, they drew attention under the motto "Remembering means changing" to the fact that refugees and migrants in Brandenburg are also repeatedly exposed to racist attacks. In addition to Seebrücke Potsdam and the initiative Opferperspective, several migrant organizations such as the group "Women in Exile" had called for action. There were protests nationwide on this day, the largest of which were to take place at the central memorial demonstration in Hanau, which was banned due to the rise of the Corona numbers.

The protests tie in with the worldwide protests against racist violence, which received new impetus with the violent death of George Floyd three months ago in the USA. Jane Wangari of the Brandenburg group "Women in Exile" says: "Thanks to the worldwide Black Lives Matter movement, police violence is finally becoming an issue. Also in Germany. Fugitives and migrants who have lived in Germany for a long time experience racist attacks every day".

Racism is not only a problem of security authorities and Nazis, but comes from the middle of society. "Racism has divided our society for centuries, with deadly consequences," Wangari said. Since reunification, at least 82 people have been murdered for racist motives.
In Brandenburg as well, refugees and migrants are repeatedly victims of violent attacks. Noël Martin died recently, 24 years after he was hunted by Nazis in Mahlow, Brandenburg and spent the rest of his life paralyzed. In the spring of 2019, Rita Awour Ojunge – a refugee woman- disappeared from the camp in Hohenleipisch under unknown circumstances. Three months later the Brandenburg police found her body in a nearby forest. She leaves behind two small children. Jane Wangari comments: "The police are delaying the case. To date, the authorities have not commented on Rita's death. It's time we got some answers."
The demonstration emphasized the demands of the "Initiative 19 February" from Hanau: The surviving dependents should not only be supported directly, but a foundation should also be established, which is dedicated to education against racism. The demonstrators also turned to the Brandenburg politicians: They had to clear up racist murders completely. Attacks against fugitives by the police had to be stopped. Politics should dissolve collection camps in favor of humane accommodation.

To the call of the demonstration:
https://www.facebook.com/events/brandenburger-tor-potsadam/antirassistische-demo-in-solidarit%C3%A4t-mit-blacklivesmatter-in-gedenken-an-die-erm/4119230368147776/