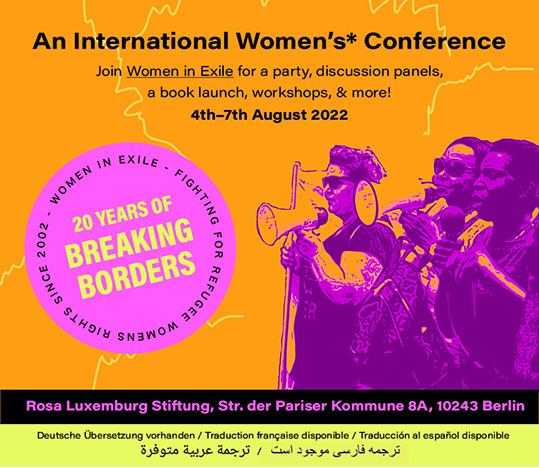 Weaving experiences, building networks. Analysis of the political, economic and colonial causes of forced displacement.
Women in Exile and Friends are celebrating their 20th anniversary!
Over the past two decades, we have broken many borders. As refugee women, we are constantly confronted with visible and invisible borders. At these borders, refugee women's autonomy and freedom of movement are regimented, their choice of where and how to live is externally determined. Access to health care is precarious and inefficient. Work bans drive people into dependence on arbitrary authority or into irregular employment. Asylum policies foster a social climate in which refugees are dehumanized and devalued.
As organized refugee women, we encourage each other in the fight against sexism and racism. We reiterate our call for the abolition of all camps. We continue discussions about the political motivations that drive people into exile. We will make it clear that we are not alone or isolated, but that we share struggles and successes. We are part of a global human community. We collected our knowledge and experiences in our book "Women in Exile – Breaking Borders to Build Bridges" which will be published on the occasion of the International Women Conference.  
We invite all refugee women and friends in solidarity to come to the conference!
Let's build a world without borders, a world that overcomes the effects of colonization and ends exploitation and plunder.
For the right to come, the right to go, and the right to STAY!
Women in Exile & Friends