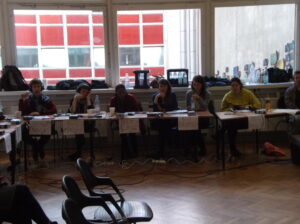 With simultaneous translation into 7 languages!!! Thanks to all our wonderfol interpreters!!!!!
Opening Statement
"Women* Breaking Borders" Conference 22-24.09.2017
Celebrating 15 years of Women in Exile
For us, Women in Exile & Friends, the organizers of this conference, it is very important to bring to the attention of all participants, what we mean by borders. This is a solidarity empowerment conference for those who identify themselves as women* and for those who want to learn together with us in our workshops on how to dismantle racist and sexist borders.
We have experienced borders from different areas, including borders between ourselves as refugees and/or refugees and supporters. Some of us experienced gender borders as women* in our familes and in the society in our countries of origin. We also faced racist and sexist borders when we were crossing frontiers. Then the visible and invisible borders confronting us everyday in the Lagers in this country.
The authorities divide us into wanted and unwanted refugees, those tolerated with no chance of staying, those with limited stay and those who should be integrated into the society, "but for how long"? Recently refugees from Afghanistan, Kosovo, and Iraq to mention just but a few, who were welcomed a few years back are being deported, though it is an open secret that these countries are far from safe.
These divisions are meant to build hierarchies between refugees by making some feel that they have more rights than others and leaves others with the impression of being even more discriminated. For 15 years we have been fighting to change this political concept and we want to continue with your solidarity regardless of who you are or where you are from. Our aim is and has always been to enable refugees who identifying themselves as women* to stand up for our rights as women* living in this society.
We call upon all of us to participate in this conference with an open mind, reflecting on our own prejudices and privileges.
We declare no borders are high, low, wide or solid enough when women* unite.
Right to come!!
Right to go!!
Right to STAY!!