Still, a refugee woman and her family are fighting in Teltow for shelter that does not violate their human dignity. Here you can find a detailed article in English. Again and again, women report security personal threatening them. In Teltow, you can also find this as reported in the article: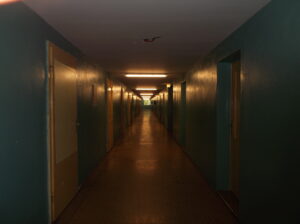 "Things here are getting worse every day," says Halima. "They are threatening us."
A few days before we met, someone switched off the family's electricity supply. In the altercation that followed, between the family and the Hausmeister (building janitor), a security guard from the building next door physically assaulted Halima's husband.
Later that day, the same man sprayed toxic insulation foam around the door of their room while the family cowered inside.
"A while afterwards, he came inside the room and wouldn't leave," Halima told me. "When we asked him his name, he called himself 'the Hunter'."