Refugee Women Get Loud!
Refugee Women Summer Bus Tour in Berlin/Brandenburg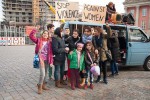 For the last two years the accommodation of refugee has become worse.
Some of us are accommodated in containers, tents or sport halls. There are too many people being put into too little space. A lot of money is being allocated to local authorities to upgrade isolated Lagers and the law is even allowing the construction of Lagers in industrial areas in form of containers! We also have to live with fears from racist attacks, fears of deportation and with the fact that our lives are literary being dictated by the discriminative laws of the government.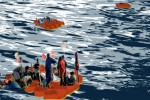 After surviving the dangerous journeys and having to live under these conditions, it makes an already hopeless situation become a traumatising one.
Reports of conflicts ending in death and sexual harassment and violence against women are becoming the norm.
For these reasons; we the refugee women and our friends have every reason to get loud and to demand a life in human dignity.
Women in Exile and Friends invite you to join us, on our Berlin/Brandenburg summer bus tour starting from 01.6.2015. We want to visit these camps once a week. Let us visit these camps together, talk to the women and find out, what are their pressing needs. Let them know of their human rights and together loudly voice our demands publicly. Let us take this opportunity to invite them to our summer seminar.
If you want to participate in this tour, please contact us!