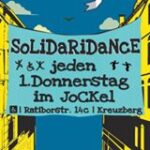 Deutsch hier:
https://www.facebook.com/events/467413603410251/
SoLiDaRiDaNcE // Info-event and Soliparty // Thursday 02.04.2015 // Entry: Support for the group's work!
"Do all women have equal rights?"
REFUGEE WOMEN GET LOUD:
PART II: Report by Women in Exile & Friends

Thursday 02.04.2015 // 7.30 p.m.
Jockel: Raitborstraße 14 C, Berlin-Kreuzberg
to get there take the Bus M29 to Glogauerstraße/ Pflüger Straße
PROGRAMME:
7.30 p.m.
* Doors open
8 p.m.
* Speech from Women in Exile & Friends
* Pechua Kucha
9 p.m.
* Performance von Bahati
* check her music here: https://www.facebook.com/pages/Bahati/134268736457?ref=ts&fref=ts
9:30 p.m.
* Spoken word Performance by BABICHE PAPAYA
* after that:
DJ Dr. K // queerbeet–move your feet
DJ al dino // world indie disco
DJ Meister Lampe // electro(pop) & deep house
COME TO JOCKEL, SUPPORT OUR STRUGGLES AND DANCE IN SOLIDARITY!
Come to our info evening and take part in a "Pecha Kucha" describing the history of Women in Exile & Friends. We will tell a story that started from personal problems, made us organize ourselves politically and then continued with Friends supporting our political fight. The "Pecha Kucha" includes photos from our Raft tour through Germany last summer, which was joined by refugee women and supporters nation wide. After that we will enjoy a performance from Bahati and finally dance in solidarity to the music from DJanes.The funds raised by this event will be used for our work.
* free entry for refugees
* wheelchair accessible
* smoke-free during the info-event
* translation provided – please let us know which language you prefer
CONTACT US AND GET INVOLVED: info(at)women-in-exile(dot)net