Dear friends of Women in Exile,
Liebe Freund*Innen von Women in Exile,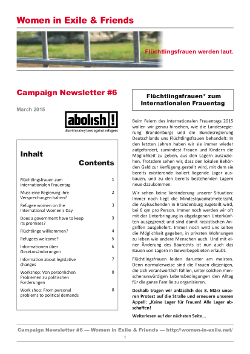 our newsletter no. 6 has been released./ Unser Newsletter Nr. 6 ist erschienen.
Inhalt / Contents
Flüchtlingsfrauen* zum Internationalen Frauentag
Muss eine Regierung ihre Versprechungen halten?
Refugee women* on the International Women's Day
Does a government have to keep its promises?
Flüchtlinge willkommen? / Refugees welcome?
Informationen über Gestzesänderungen / Information on legislative changes
Workshop: Von persönlichen Problemen zu politischen Forderungen / Work shop: From personal problems to political demands
Wir hoffen Sie haben/ ihr habt Spaß beim Lesen und wünschen allen ein kämpferischen und erfolgreichen Internationalen Frauentag!

We hope you have fun reading it and wish you all a powerful and sucessful International Women's Day!