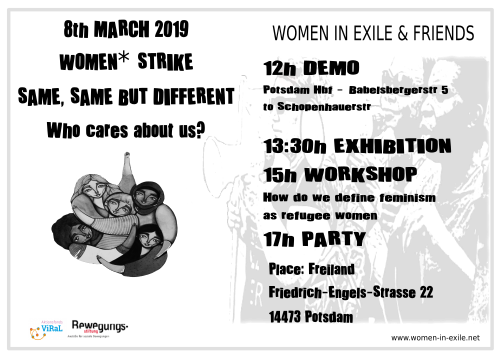 8th March International Women's Day is a global day remembering the historical, cultural, and political achievements of women. We celebrate 100 years of Women fights because we are the mothers, we are the family caretakers, domestic workers, babysitters, cleaners.
We refugee women we are teachers, nurses, business women, engineers, this and all other talents are not put into consideration because we are isolated and discriminated.
In 2019 we join the global call for a women's strike because we come united to make visible women's work in all aspects of life, inside and outside the house, in urban and rural areas, paid or unpaid no matter the color of our skin or our origins.
Time is now to build a feminism which is inclusive and inter-sectional, a feminism that listens to all women* and that ends with racist, sexist and discriminatory structures.
We cannot succeed if part of us are held back, as refugee women* we are double discriminated and we'll continue denouncing racists laws, the existence of lagers and deportation policies. We will continue breaking borders by bringing awareness about colonialism and how it cannot be ignored since we have the right to peace, social inclusion and shared prosperity.
Our aim is to enable refugees who identifying themselves as women* to stand up for their rights as women* living in this society. And we expect from non-refugee women* solidarity in denouncing discrimination, abuse and violence.
We, refugee women*, represent the forces of change, together with civil society we will change the course of history. We are women* living in this society and part of the fight for a fair inclusive society.
We invite you to a workshop on how we define feminism as refugee women.