On the 17.12 a group of refugee women from the Caucasus and Ukraine came from Nürnberg to B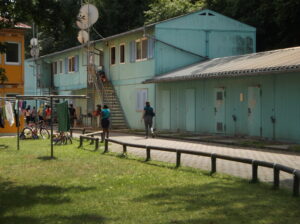 erlin to celebrate the Christmas festivity with Women in Exile. The following day 18.12, Women in Exile and the women held a workshop to exchange experiences on how fight together for our rights as women.
The women from Nürnberg talked about the terrible situation in the lagers. They deplored the disrespectful treatment they get from the workers of the lagers and the social offices. They especially mentioned the Erstaufnahmelager in Zirndorf where a pregnant woman had to wait until 4 a.m. after her registration before finally getting a room.
Zirndorf fells like a prison with fixed times for standing up, eating, washing and going to bed. Due to the principle of benefit in kind they receive low quality products but not enough money to care for themselves. Adding up to this stressful situation are the bad hygienic conditions with common showers for 25 persons that are cleaned only once per week.
For one of the women the mental stress and the bad hygienic conditions led to severe skin rashes, that got even worse after medical malpractice. Her doctor recommended an urgent transfer to a room with a single bathroom. However, after six months of waiting her living situation has still not changed.
In order to help each other and fight against this situation in lagers in and around Nürnberg the women want to organise regular meetings. Activists from Women in Exile will further support them and invite to a workshop on legal rights and possibilities for action in the beginning of next year in Nürnberg.