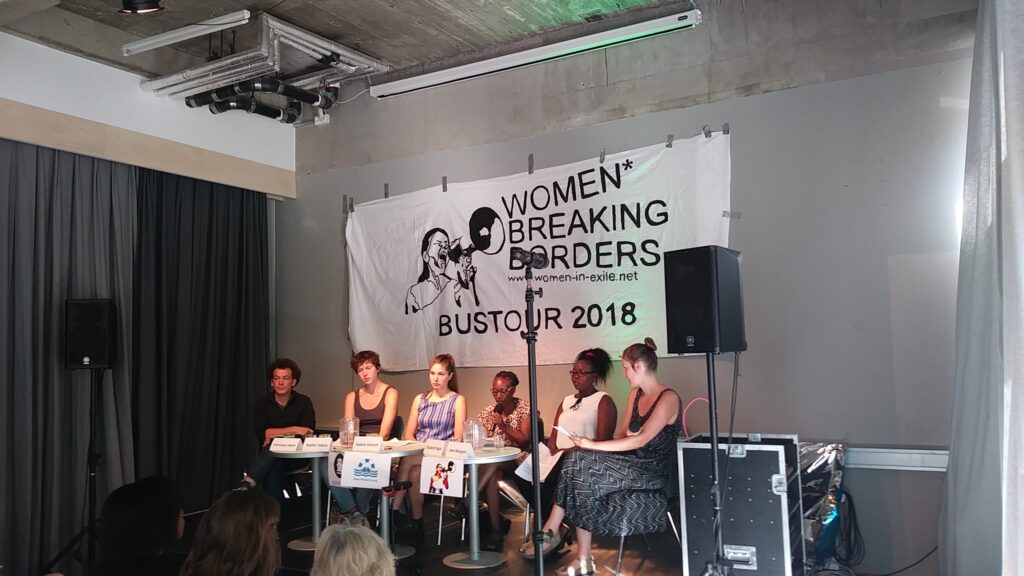 From July 23rd to August 5th, Women in Exile and Friends, undertook a summer bus tour through southern Germany and Switzerland to network with other initiatives and groups who fight against racism and discriminatory asylum laws and regulations.
Our tour focused on:
Flight reasons, dangerous routes that refugees take on their way to Europe, criminalisation of refugees, deportations ending in deaths and the police brutality accompanying them.
"Anker" camps and Seehofer the interior minister, the master mind behind the "AnkER" policies which are based on racism and discrimination.
The trauma and the inhuman conditions refugees are living in these lagers.
Testimony
We talked with a young women who is now living in Bamberg "AnkER" , who narrated how to us, how after surviving the dangerous routes and her arrival in Germany she has been moved from one "AnkER" (before known as Arrival centres but had same conditions as "AnkERs") to another. Here is a summary of her story:
"I came through the desert to Libya and was imprisoned for about three months. I got in a boat in Libya, I was lucky to survive but some of the people drowned. I woke in an Italian beach to find some corpses lying next to me.
In Germany I have been transferred from different camps twice and now I am living here with my child. As you can see he is sick, he does not eat or sleep, I take him to the doctor who comes in the camp once a week and he says he is alright. Look at him, he is so thin, is this a child who is well? I am so worried; I live in stress not only for my situation but also for my child. I am living in trauma, nobody want to know about me or my child, nobody cares."
To proof this, we asked her if we can take a picture of her child and publish it on our blog. She permitted us to do so and publish it wherever we want, this way she thinks someone will see it and come to the rescue of her child.
Final charges from Women in Exile
Continue reading Presse-Tribunal: Final charges from Women in Exile