UPDATE
The date of the process was can cancelled for unknown reasons

Nevertheless there will be a gathering tomorrow in Nürnberg for realizing a solidarity action with creative painting and doing handcrafts, because there are reasons enough!
In times where the laws governing refugees become more and more restrictive and the rising repression against left and other progressive movements and attempts of intimidation against persons who register demonstrations and ralleys, we won't keep quiet!


We gather tomorrow, Friday 7.05.19 at 8 am in front of the municipal court (Amtsgericht) Nürnberg and demonstrate in a creative way for FREEDOM OF ASSEMBLY, our basic right.

Flight is not a crime!
For the acknowledgment and compliance of the Basic Law of Germany!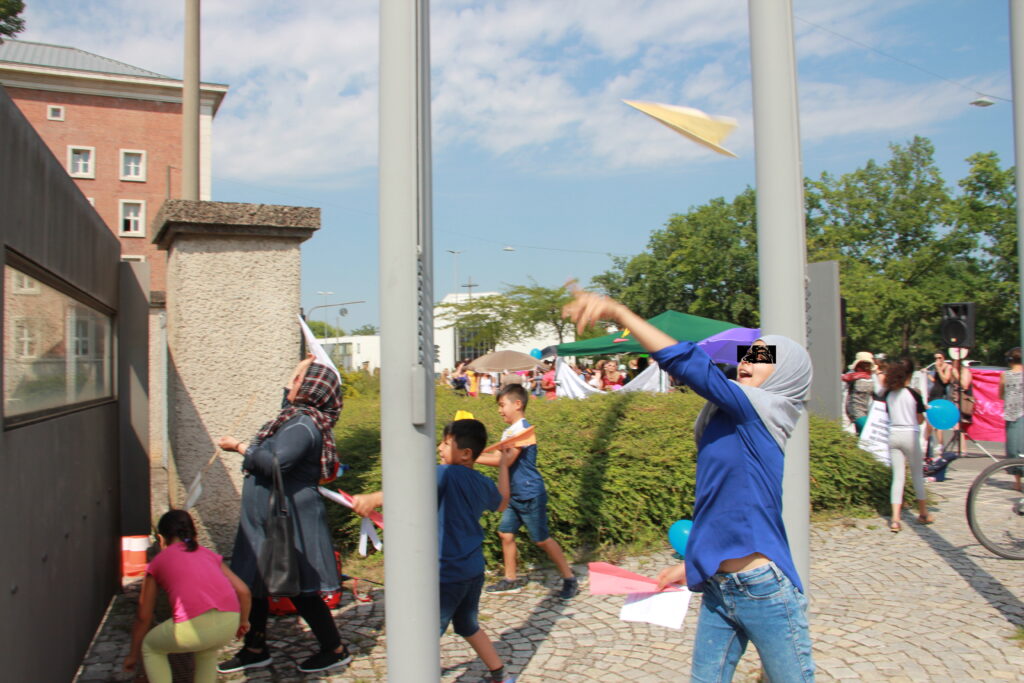 This Friday, 17.05.2019 one of our Friends and supporters from Nürnberg has a trial because last year on 27.7.2018 during our "Women* Breaking Borders Bus Tour 2018" she, in her role as person who registered the rally in front of BAMF, didn't hinder us to send our political demands via paper airplanes over the fence to the court of the BAMF headquarter (see also on our webblog: PM 8. März Bündnis Nürnberg).
We ask ourselves: what are the real crimes? Why will this be debated in the court but not the systematically violations of basic and human rights by which refugees are affected in Germany?
We, Women in Exile & Friends demand from politician, civil and judicial bodies to advocate for "Amnesty" now and for everybody who have "no or shaky status" on the 70th Anniversary of "German Basic Laws" and prosecute basic and human rights violations instead of criminalising human rights.
Our first visit at the BAMF office in Nürnberg we had on 30.7.2016, during our "Refugee Women Bus Tour" (see: https://www.women-in-exile.net/en/bustour-2016/) We together with supporters held a demonstration in front of BAMF. After reading our speech and demands we handed out, the written document to one of the representative of the BAMF, who had come out to talk and listen to us. Our demands which he promised to pass to the others for considerations were:
Continue reading Court case in Nürnberg because of our paper planes we send to BAMF – what are the real crimes?