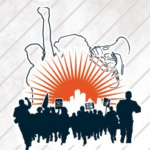 English below, Francais en bas
Unconditional right to stay instead of deportation prisons. Stop tightening of asylum laws!
Droit de séjour inconditionnel plutôt que centre de rétention. Non au durcissement du droit d'asile !
Nachdem am Samstag 10.000 Teilnehmer_innen auf dem Oranienplatz klar gemacht haben, dass es breiten Widerstand gegen die Asylrechtsverschärfung gibt, sehen wir uns drei Tage vor der Abstimmung im Bundestag nochmal auf der Straße und fordern: Bedingungsloses Bleiberecht statt Abschiebeknast. Asylrechtsverschärfung stoppen! Am 5. Mai um 17:30 auf dem Oranienplatz.
Aufruf des Bündnisses für Bedingungsloses Bleibrechts:
Bedingungsloses Bleiberecht statt Abschiebeknast. Asylrechtsverschärfung stoppen!
Continue reading 5.Mai in Berlin: Demo gegen die Asylrechtsverschärfung